Description
Asus Vivobook Flip 14 TP470EA-EC005W
Intel Core I5-1135G7 512GB SSD 8GB Ram Intel Iris Xe Graphics 14" Inch FHD Win.11
Flip for your creative vibe
The ASUS VivoBook Flip 14 TP470EA-EC005W has made a comeback, showcasing a striking new design that will surely captivate your attention. This versatile convertible laptop comes in either Indie Black or Transparent Silver, featuring an eye-catching color-blocked Enter key with vibrant yellow accents and text. It doesn't just look good, it's also packed with power, boasting an Intel Core i7 processor with the latest Intel Discrete Graphics, 16 GB of memory, and a spacious 1 TB PCIe SSD. The robust 360° hinge ensures the display remains securely in place at any angle, allowing you to effortlessly switch between laptop, tablet, and everything in between.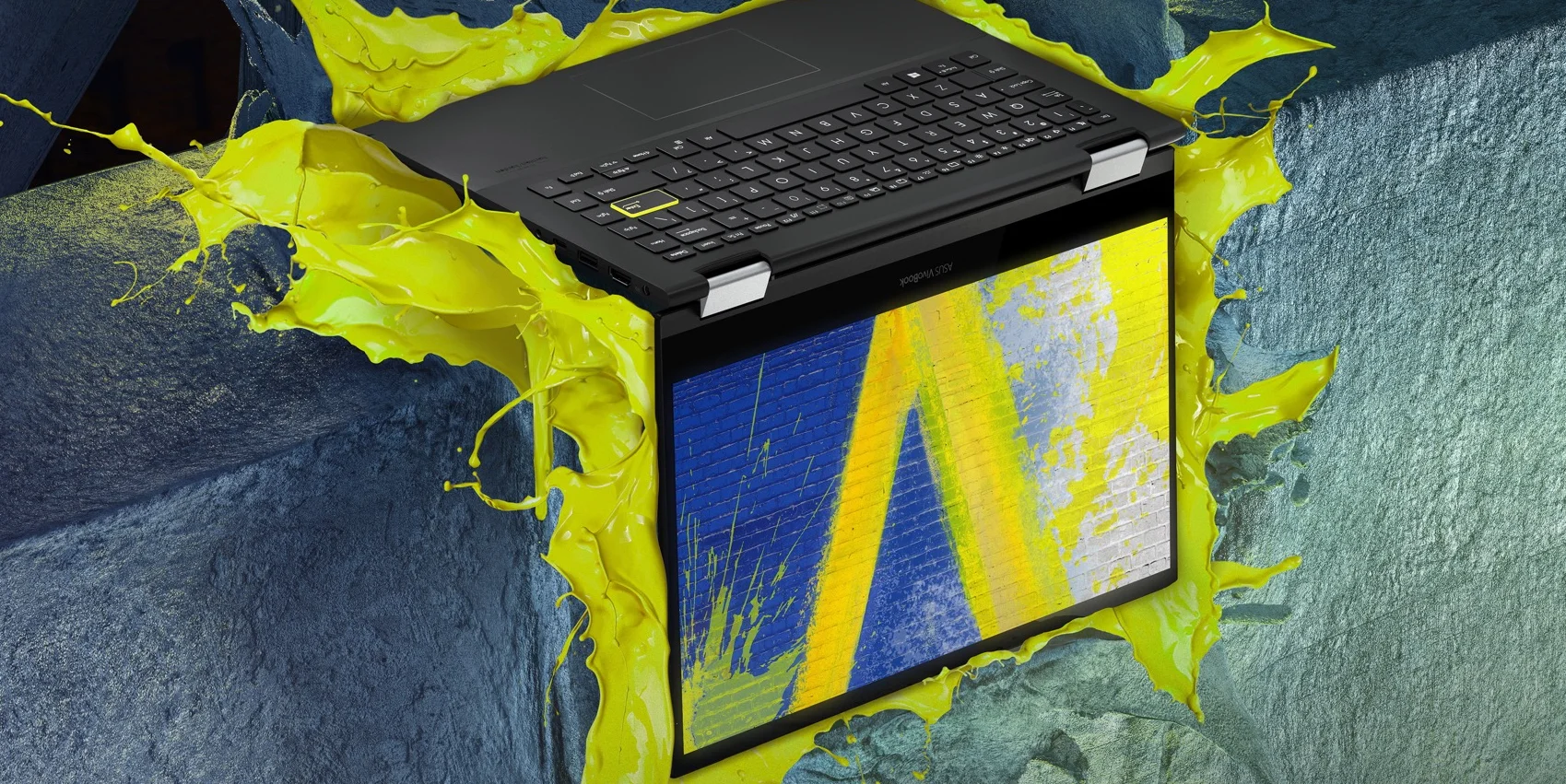 Create, work, surf or watch
Experience the freedom to unleash your creativity, tackle work projects with ease, or indulge in video streaming pleasure with the seamless performance of VivoBook Flip 14. Equipped with an impressive Intel Core i7 processor, Intel Iris Xe Max graphics, and a generous 16 GB of memory, this laptop empowers you to effortlessly handle any task. Furthermore, its high-capacity PCIe SSD ensures lightning-fast data access, enhancing your overall computing experience.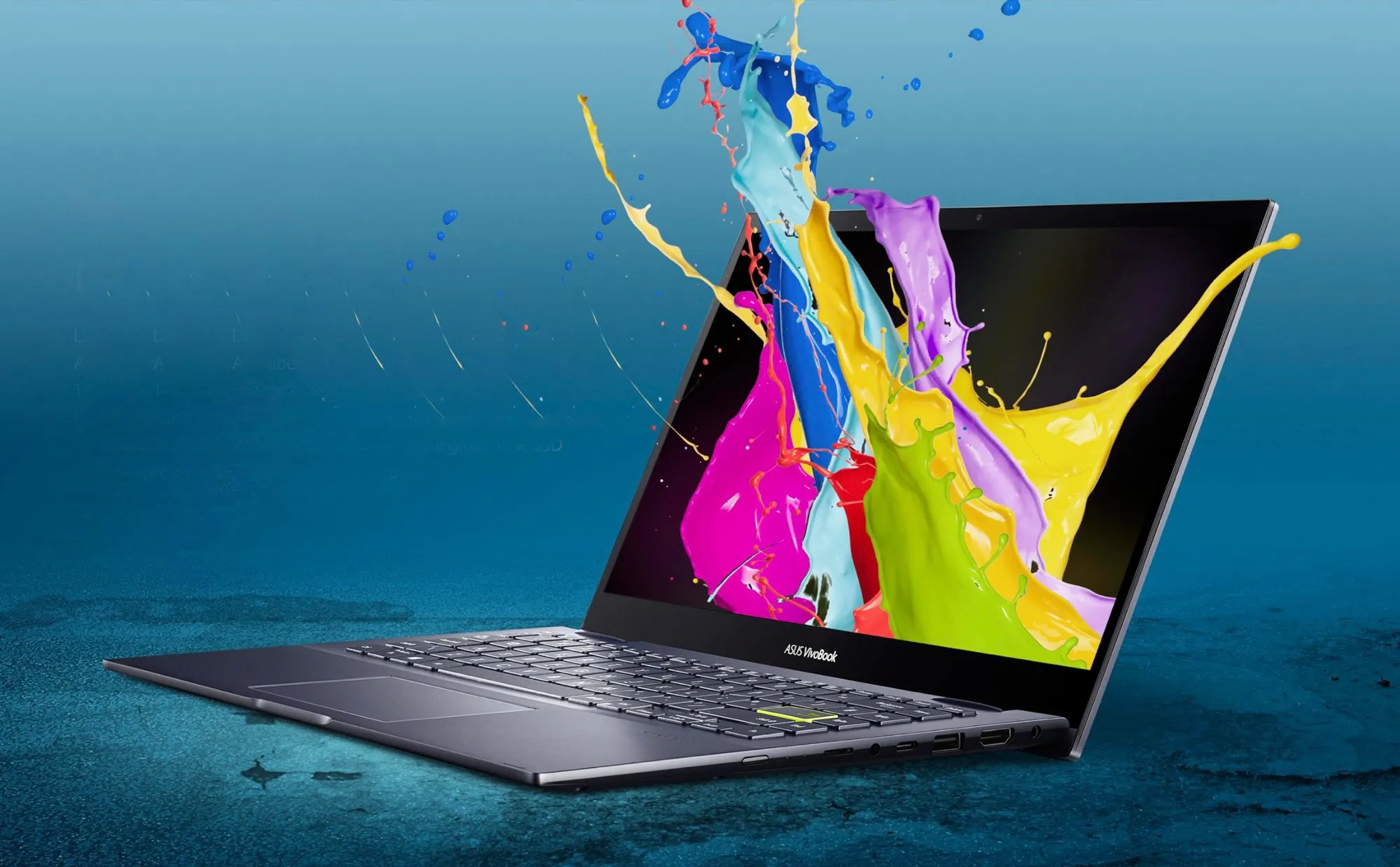 ASUS INTELLIGENT PERFORMANCE TECHNOLOGY (AIPT)
ASUS introduces Intelligent Performance Technology (AIPT), a cutting-edge solution that revolutionizes thermal management and power efficiency. By leveraging advanced algorithms and a network of smart sensors (ranging from five to nine), combined with an aerodynamic IceBlade fan design and a 65-watt power supply, AIPT intelligently boosts CPU performance while ensuring system stability. This technology not only extends battery life for an entire day but also delivers a quieter and cooler laptop experience. With ASUS Intelligent Performance Technology, users can choose between high-performance mode for prolonged periods of intense usage, balanced mode for optimized performance, thermal control, and power consumption during everyday tasks, or whisper mode for a cool and silent power-saving operation.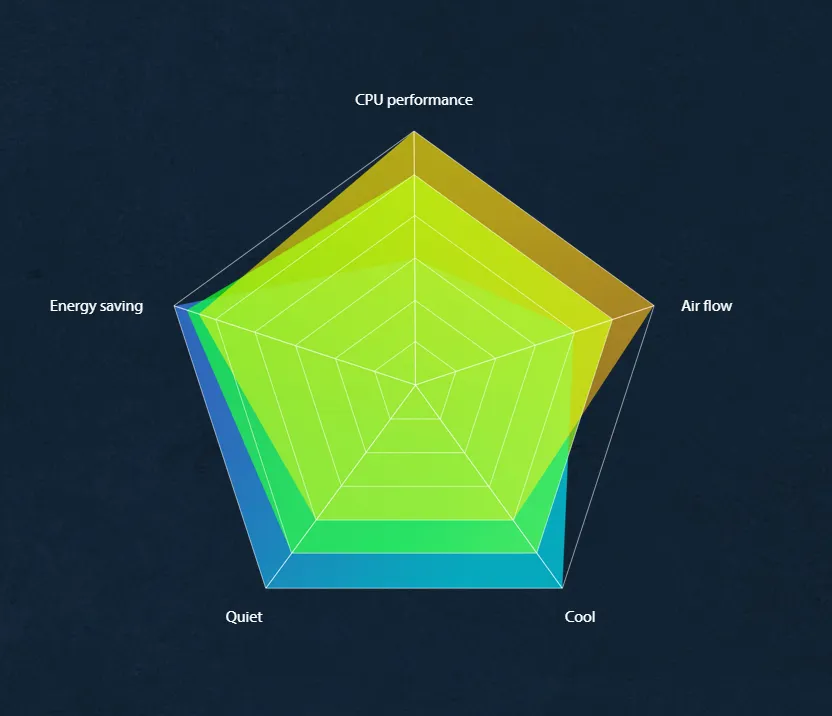 Unleash the possibilities
By leveraging ASUS Intelligent Performance Technology in Performance mode, laptops equipped with an 11th Gen Intel processor can benefit from an impressive performance increase of up to 40% compared to standard performance levels. Even in the default Balanced mode, users can experience a noteworthy performance improvement of up to 30%. These enhancements are made possible through the intelligent optimization of power and thermal parameters, ensuring an exceptional computing experience with heightened efficiency and responsiveness.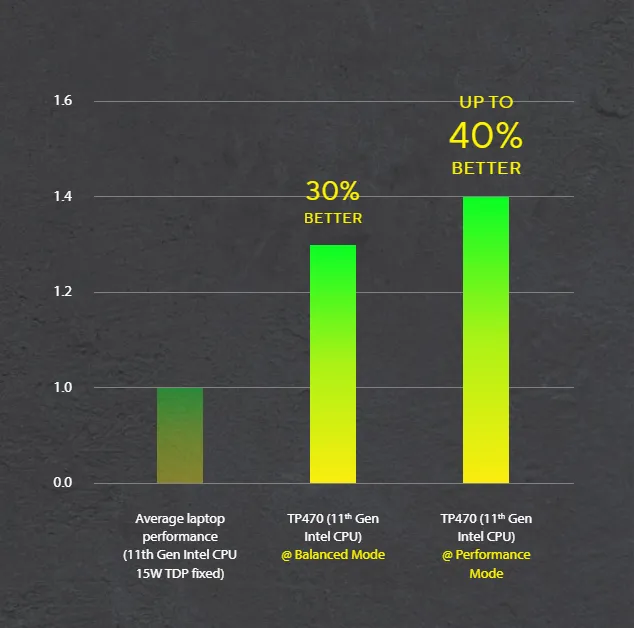 See the amazing performance improvement
Performance Mode offers significant performance boosts for commonly used applications, enabling you to complete your work with greater efficiency and speed. With this mode activated, the performance of these applications is maximized, ensuring faster task completion and improved productivity.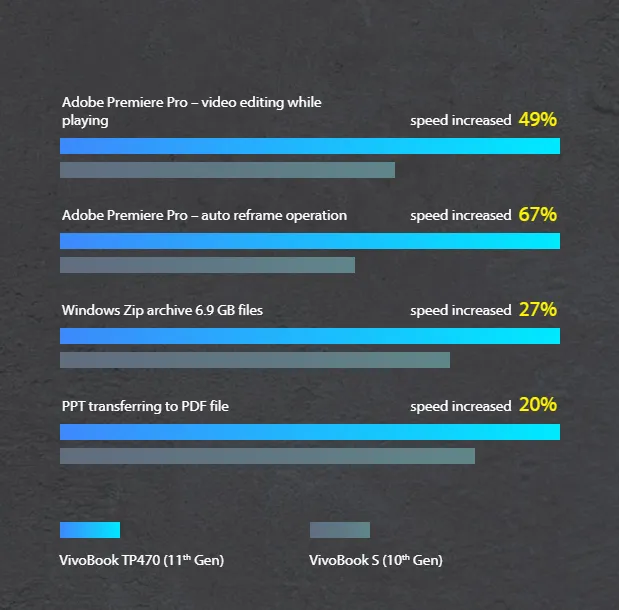 How to enable a 40% performance boost
ASUS Intelligent Performance Technology offers three distinct modes: Whisper, Balanced, and Performance. Switching between these modes is effortless and can be done using either the Fn + F hotkey combination or through the MyASUS software. To switch using the hotkey, simply press the Fn key along with the corresponding F key. Alternatively, you can access the modes through the MyASUS software by selecting Hardware Settings and then ASUS Intelligent Performance Technology Modes. This convenient functionality allows you to easily customize your laptop's performance settings to suit your specific needs and preferences.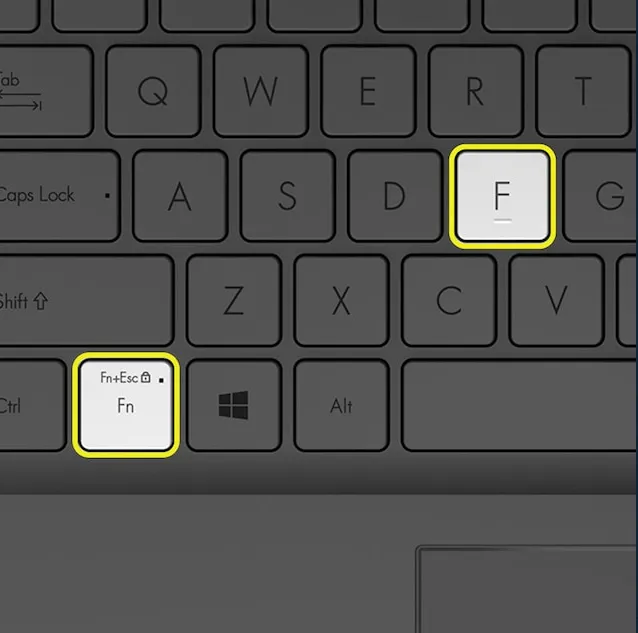 Aerodynamic IceBlade, redesigned for enhanced cooling efficiency
The new VivoBook series incorporates advanced heat dissipation technology to ensure exceptional cooling performance. Upgrades include an enhanced 8 mm heat pipe and a redesigned IceBlade fan that effectively accelerates heat transfer. The IceBlade fan, consisting of 87 blades and an impeller made from a lightweight liquid-crystal polymer, offers improved efficiency while maintaining a slim profile. The 3D-curved aerodynamic design of each fan blade enables better airflow and reduced noise levels. Furthermore, the IceBlade fans utilize fluid-dynamics bearings, which contribute to superior vibration reduction and further minimize noise compared to conventional fans. These innovations work in harmony to provide optimal thermal management, allowing for enhanced system stability and quieter operation in the VivoBook series.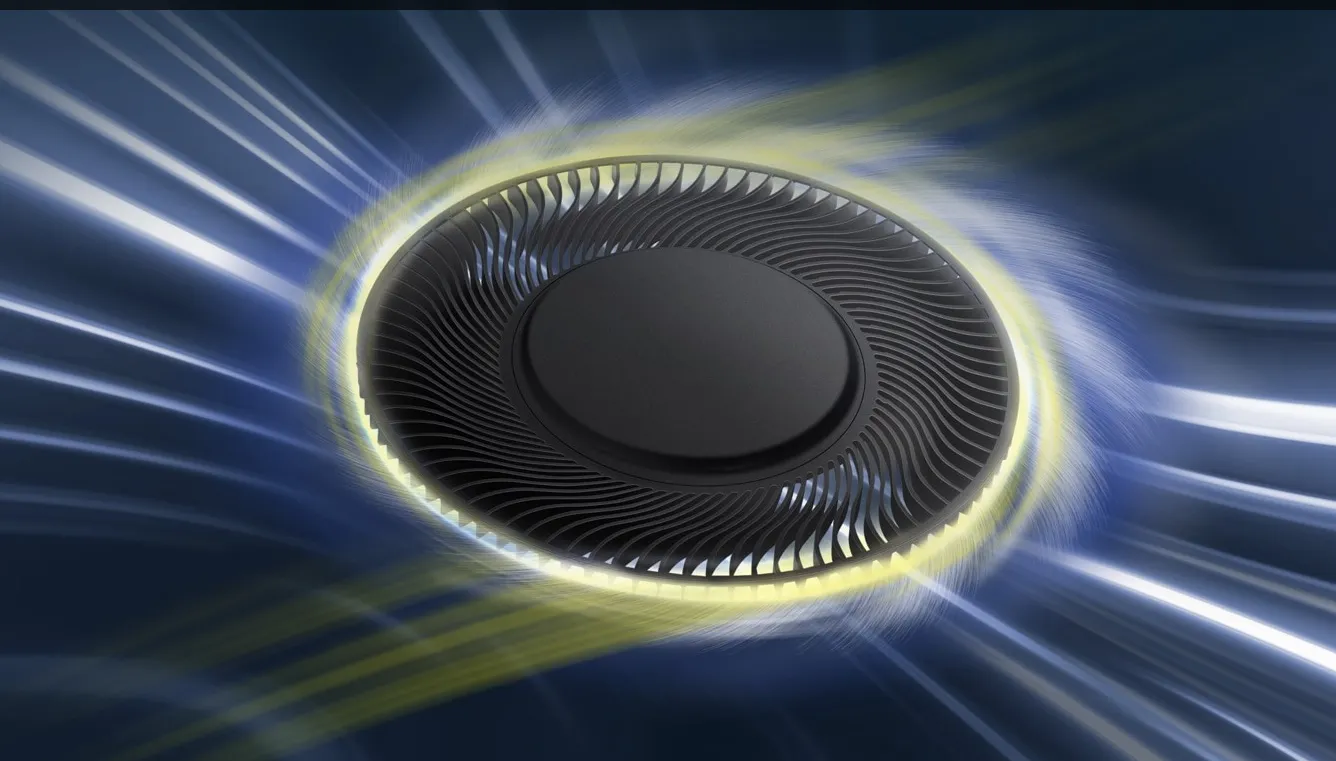 Stand-out looks
Embracing a bold and distinctive design, the sleek VivoBook Flip 14 allows you to make a statement wherever you go. Its textured metal chassis, available in Indie Black or Transparent Silver, showcases a modern aesthetic with a diamond-cut logo, adding an extra touch of sophistication. The color-blocked Enter key adds a playful element, further enhancing the laptop's unique appeal. With the Flip 14, you'll effortlessly stand out from the crowd with its eye-catching and stylish design.
Built to last
The VivoBook Flip 14 is designed with ultimate durability in mind, featuring a meticulously engineered stepless 360° metal hinge. This hinge has undergone rigorous testing, including a demanding 20,000-cycle open-and-close test, ensuring its long-lasting performance. With the robust hinge mechanism, you can confidently switch between different modes and angles, whether it's using the laptop as a traditional laptop, a tablet, or anything in between. Rest assured that your Flip 14 will continue to provide reliable and seamless functionality for years to come, thanks to its resilient and tested 360° ErgoLift hinge.
Creativity at your fingertips
The VivoBook Flip 14 is meticulously crafted to deliver an exceptional touch experience, featuring a highly responsive touch display that can accurately detect even the most delicate fingertip movements. With ASUS Pen support, you can fully unleash your creativity and enjoy a natural and responsive feel while using the stylus. To ensure convenience, the Flip 14 comes with a bundled pen holder that easily attaches to the laptop's lid, ensuring that your ASUS Pen is always within reach whenever inspiration strikes. Whether you're sketching, taking notes, or navigating through applications, the Flip 14 provides an immersive touch experience that enhances your productivity and artistic expression.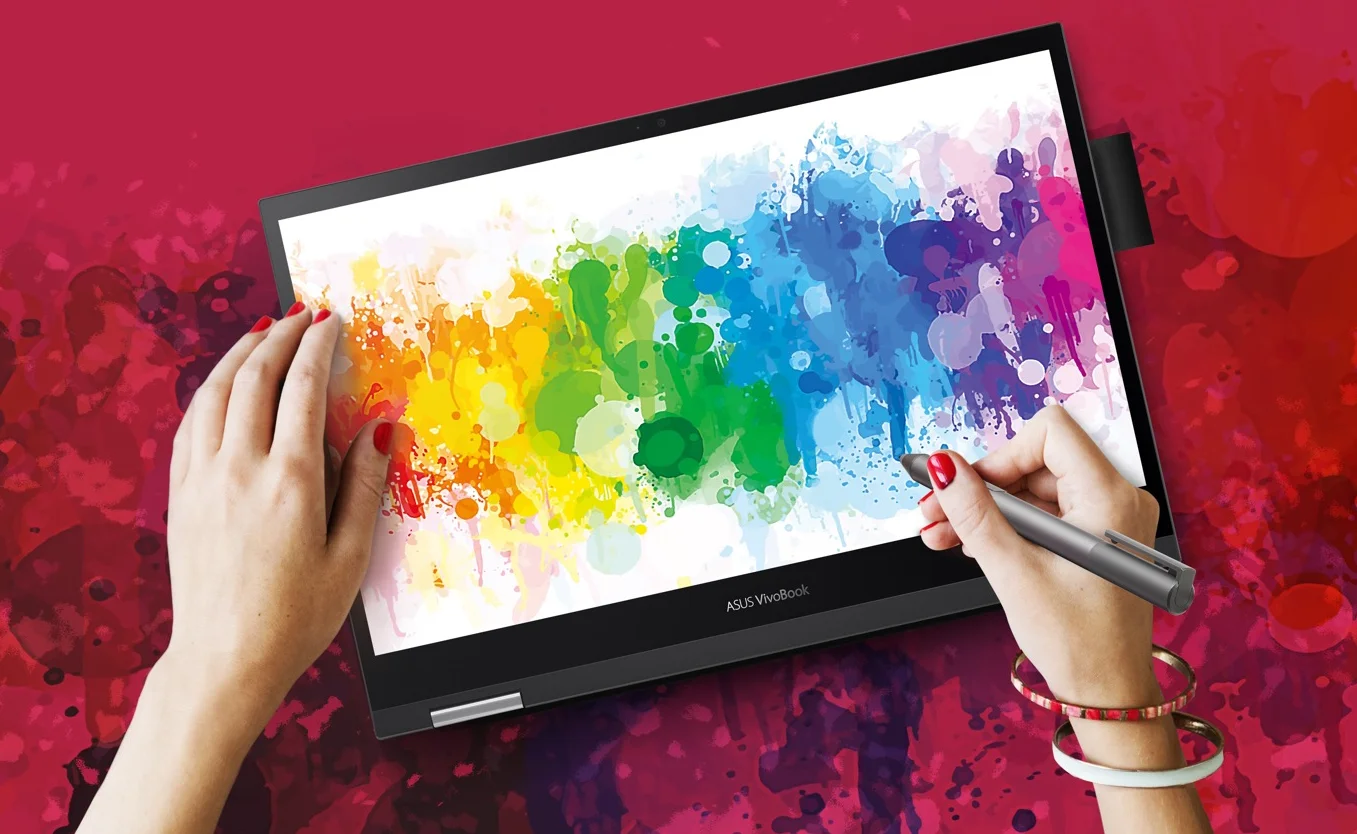 Be free from the burden
The VivoBook Flip 14 is designed to be your perfect companion for productivity and entertainment while you're on the move. With its lightweight construction, weighing just 1.5 kg, and an ultrathin profile measuring a mere 18.7mm, the Flip 14 effortlessly fits into your backpack or bag, ensuring it's always ready for travel. Its portable and lightweight design allows you to take your work, entertainment, and creativity with you wherever you go, without any added bulk or inconvenience. Experience the freedom and convenience of a laptop that combines exceptional performance with a compact and lightweight form factor, making the Flip 14 your ideal travel companion.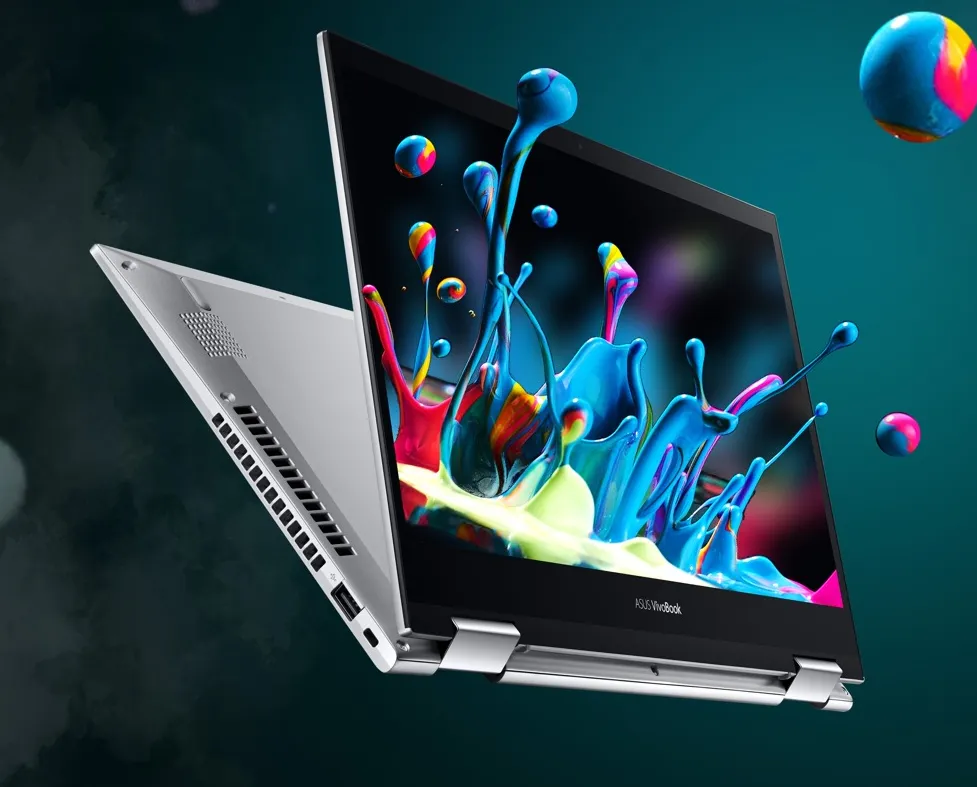 Push the boundaries 
with NanoEdge
Immerse yourself in truly captivating visuals with the VivoBook Flip 14's thin-bezel NanoEdge display. This innovative display design allows for a 14-inch panel to fit within a compact 13-inch-class chassis, resulting in a more streamlined and portable device. With an impressive 82% screen-to-body ratio, you can enjoy a larger display area that maximizes your viewing experience. The Full HD resolution ensures sharp and detailed visuals, while the wide viewing angles provide optimal clarity and color reproduction from various perspectives. Whether you're working, streaming, or enjoying multimedia content, the Flip 14's display delivers vivid and immersive visuals that enhance your overall viewing pleasure.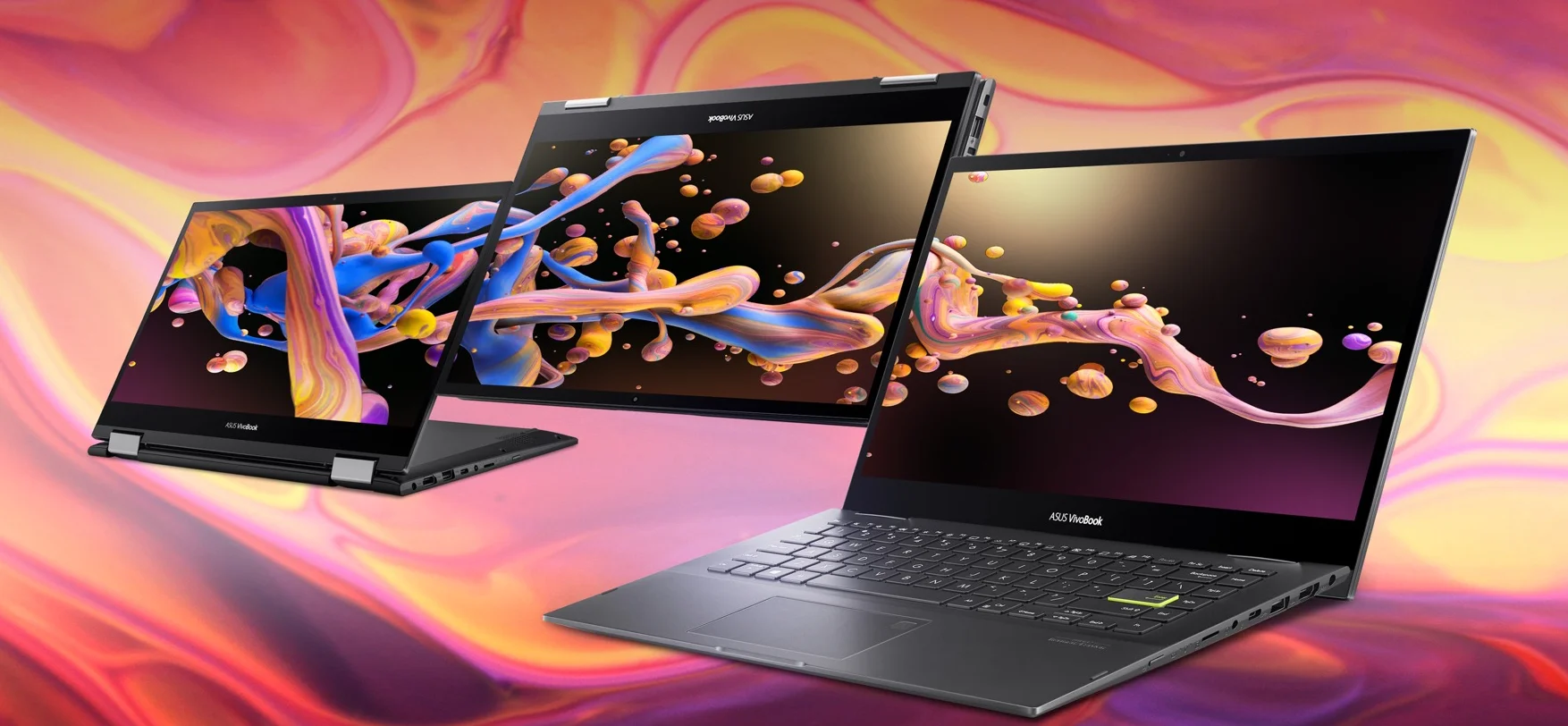 Stay connected
Enjoy the flexibility to set up your office anywhere you desire, whether it's in the comfort of your home, a bustling café, or even at the airport. With integrated Intel WiFi 6 (802.11ax) technology, you can experience blazing-fast networking speeds that enable swift large file transfers, responsive online gaming, and seamless video chats. This advanced wireless connectivity ensures that you stay connected and productive, regardless of your location. Say goodbye to sluggish connections and hello to superfast and reliable networking capabilities with Intel WiFi 6, empowering you to work, play, and communicate with ease.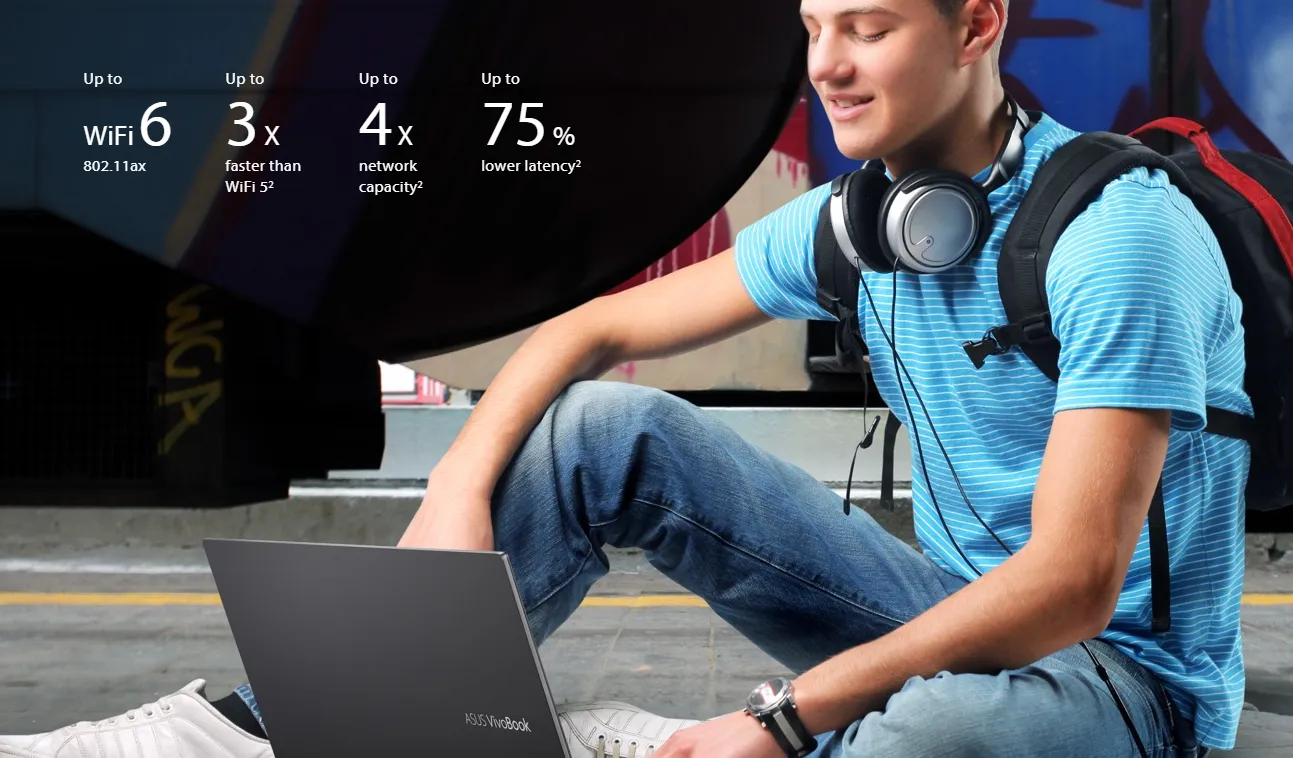 The touchpad reinvented
For effortless number crunching, the new NumberPad 2.0 feature simplifies your tasks. With a simple tap on the touchpad icon, the touchpad transforms into an LED-illuminated numeric pad, providing you with a convenient and easy-to-use solution. This innovative feature eliminates the need for a separate numeric keypad, saving you space and allowing for a streamlined computing experience. Whether you're working on spreadsheets or performing calculations, the NumberPad 2.0 on the VivoBook Flip 14 offers a seamless and efficient way to handle numerical input with just a touch.

Rock your world
Enhance your musical experience with the Asus VivoBook Flip 14, as it takes your audio to the next level. Featuring a Harman Kardon-certified sound system, this laptop delivers exceptional, high-quality audio that is unparalleled. Immerse yourself in detailed and immersive sound that brings your favorite music to life. Whether you're enjoying your favorite tunes or immersing yourself in multimedia content, the Flip 14 ensures that you can enjoy an audio experience that is second to none. Let the Flip 14 be the perfect companion to accompany your life's soundtrack with its remarkable sound quality.
Get the very best from your PC with MyASUS
MyASUS provides a convenient gateway to a variety of useful ASUS apps, enabling you to maximize the potential of your laptop or desktop PC. Whether you're using an iOS or Android phone, you can effortlessly multitask between your phone and PC. Additionally, MyASUS allows you to optimize your PC's performance, access after-sales service and support, and explore a wide range of popular app downloads. Exclusive offers tailored specifically for you are also available through MyASUS, ensuring you have access to exciting benefits and promotions. Experience the ease and convenience of MyASUS as your go-to platform for enhancing your ASUS PC experience and unlocking its full potential.