Description
Asus TUF Gaming F15 FX506HF-HN001W
Intel Core I5-11400H 512GB SSD 8GB Ram Nvidia GeForce RTX 2050 4GB 15.6" Inch FHD Win.11
The Asus TUF Gaming F15 FX506HF-HN001W is a gaming laptop that features several notable specifications. Here's a breakdown of its key components:
Processor: Intel Core i5-11400H – This is an 11th-generation Intel Core i5 processor specifically designed for laptops. It offers good performance for gaming and general computing tasks.
Storage: 512GB SSD – The laptop comes with a 512GB solid-state drive (SSD), which provides fast storage and quick boot times for the operating system and applications.
RAM: 8GB – The laptop is equipped with 8GB of RAM. While this amount of RAM can handle most games and applications, it may be beneficial to upgrade to 16GB for smoother multitasking and better overall performance.
Graphics: Nvidia GeForce RTX 2050 4GB – The laptop features an Nvidia GeForce RTX 2050 graphics card with 4GB of dedicated video memory. It's a mid-range GPU that should be capable of handling modern games at 1080p resolution with decent graphics settings.
Display: 15.6-inch FHD – The laptop has a 15.6-inch Full HD (1920 x 1080) display, which should provide a sharp and detailed image for gaming and other multimedia tasks.
Operating System: Windows 11 – The laptop comes with Windows 11 pre-installed, providing the latest features and improvements from Microsoft's operating system.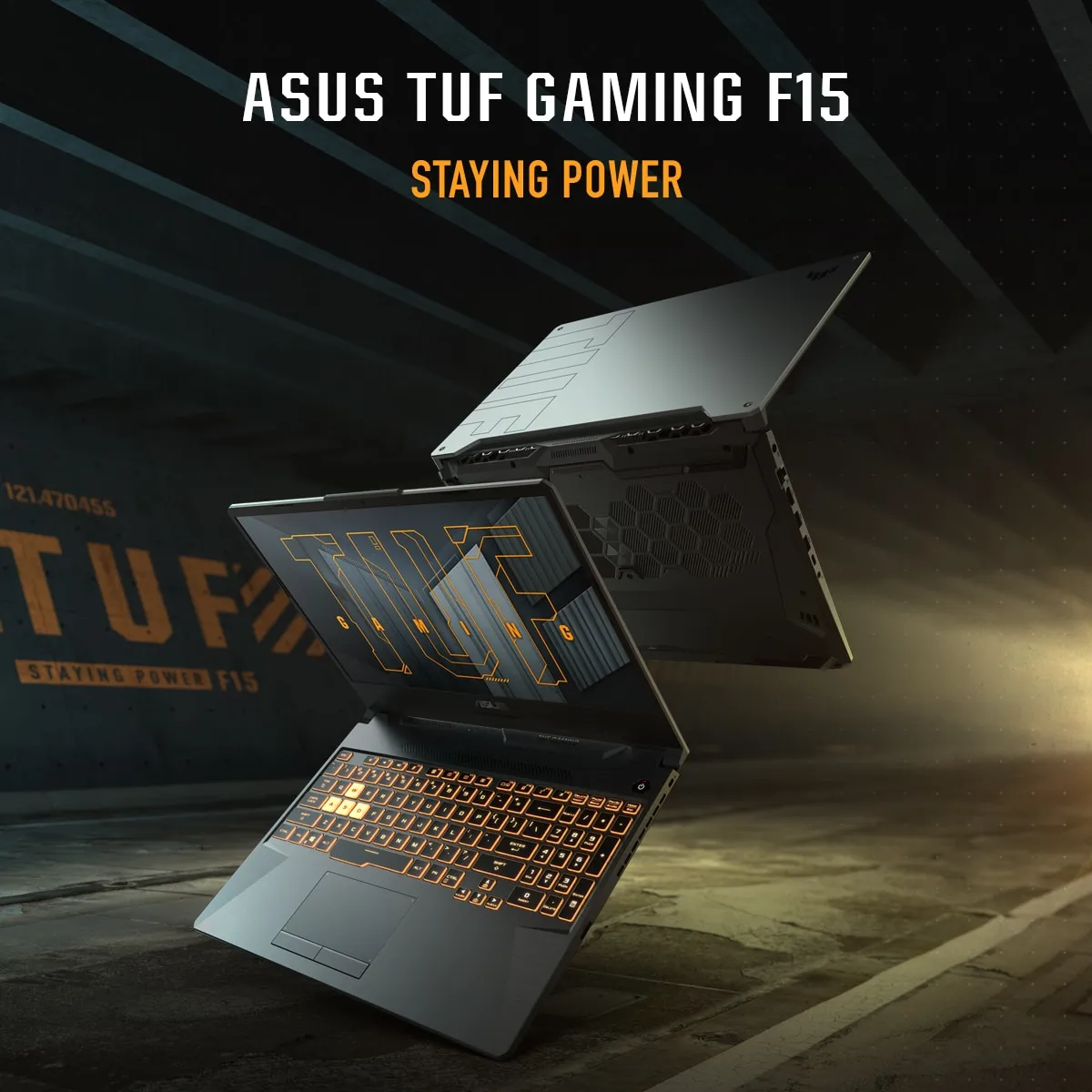 STUN WITH STYLE:
Customize your experience with the sophisticated Eclipse Gray or the daring Graphite Black color choices. The base showcases a textured honeycomb pattern that not only enhances grip but also reflects the hexagon reinforcements found around the body. The palm area features delicate hairline brush strokes, providing a professional and pristine appearance with a subtle touch of texture.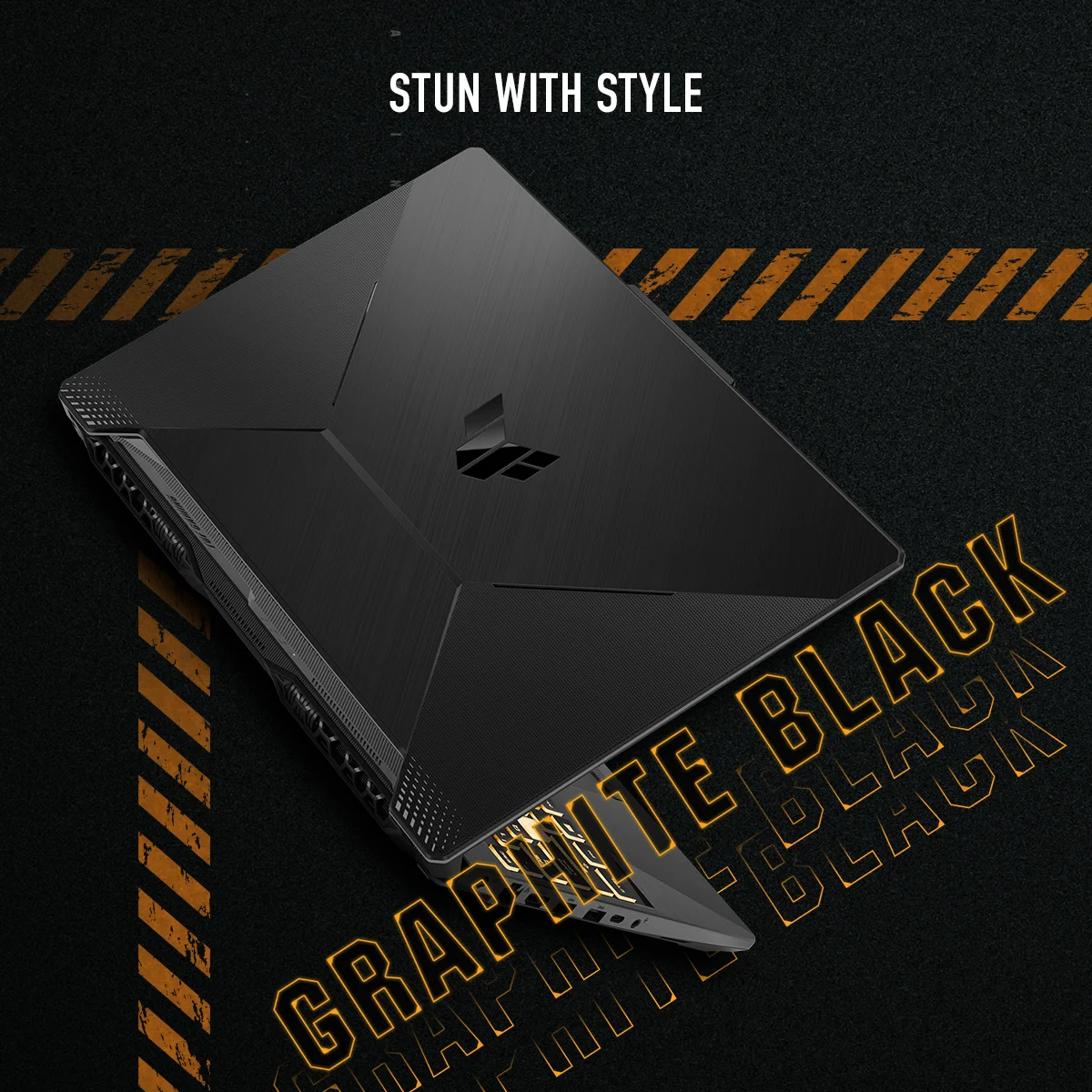 Honeycomb Grip:
The underside of the chassis is coated with a textured honeycomb grip, serving both as a stylish design element and providing enhanced grip. Additionally, the strategically placed cuts in the chassis not only add to its aesthetic appeal but also function as effective cooling vents to optimize performance.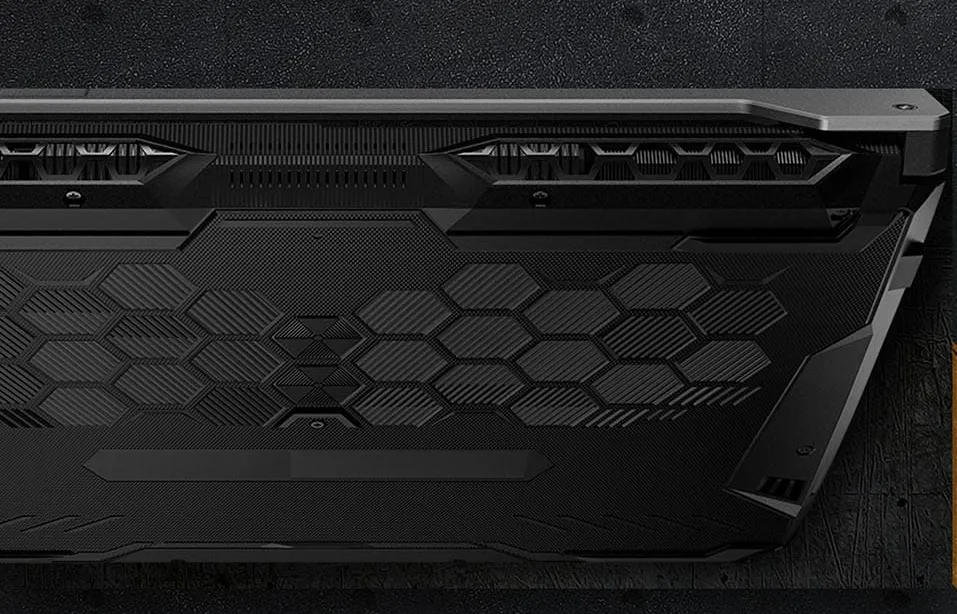 Brushed Metal Finish:
The chassis boasts clean-cut and sleek hairline brushstrokes that create a striking contrast across its surface.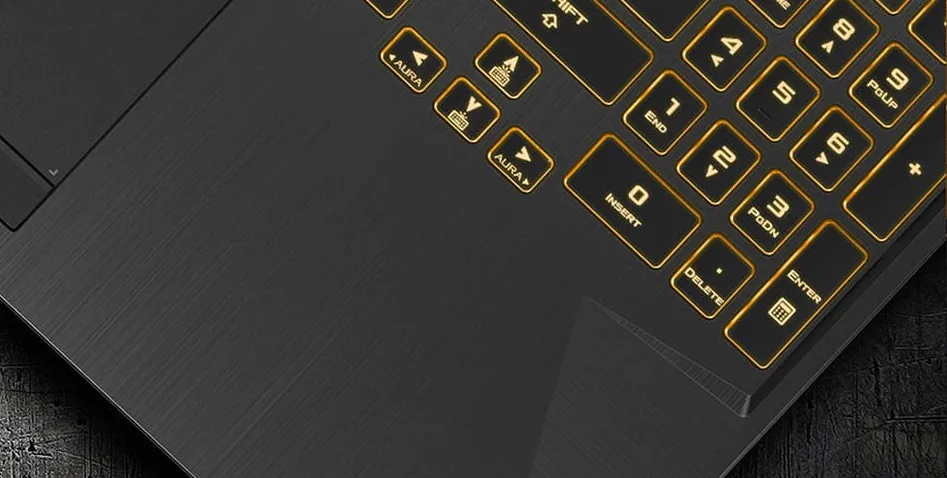 THE ULTIMATE PLAY:
Empowering gamers and creators, the world's fastest laptops are fueled by the GeForce RTX™ 30 Series. These laptops harness the remarkable power of NVIDIA's 2nd gen RTX architecture, known as Ampere, which incorporates cutting-edge features such as new RT Cores, Tensor Cores, and streaming multiprocessors. With these advancements, users can enjoy incredibly realistic ray-traced graphics and access state-of-the-art AI capabilities.
SPEED TO VICTORY:
Experience professional-level gaming with a rapid 100% sRGB IPS-level panel that achieves a refresh rate of up to 240Hz. The display's Adaptive-Sync technology ensures seamless synchronization between the refresh rate and the GPU's frame rate, resulting in reduced lag, minimal stuttering, and the elimination of visual tearing. This creates an ultra-smooth and immersive gaming experience. The Thunderbolt™ 4 feature provides lightning-fast connectivity, allowing you to effortlessly connect powerful external GPUs or external monitors, enhancing your multitasking capabilities. Moreover, you can enjoy 4K Ultra HD movies, videos, and games on larger screens with the HDMI 2.0b support.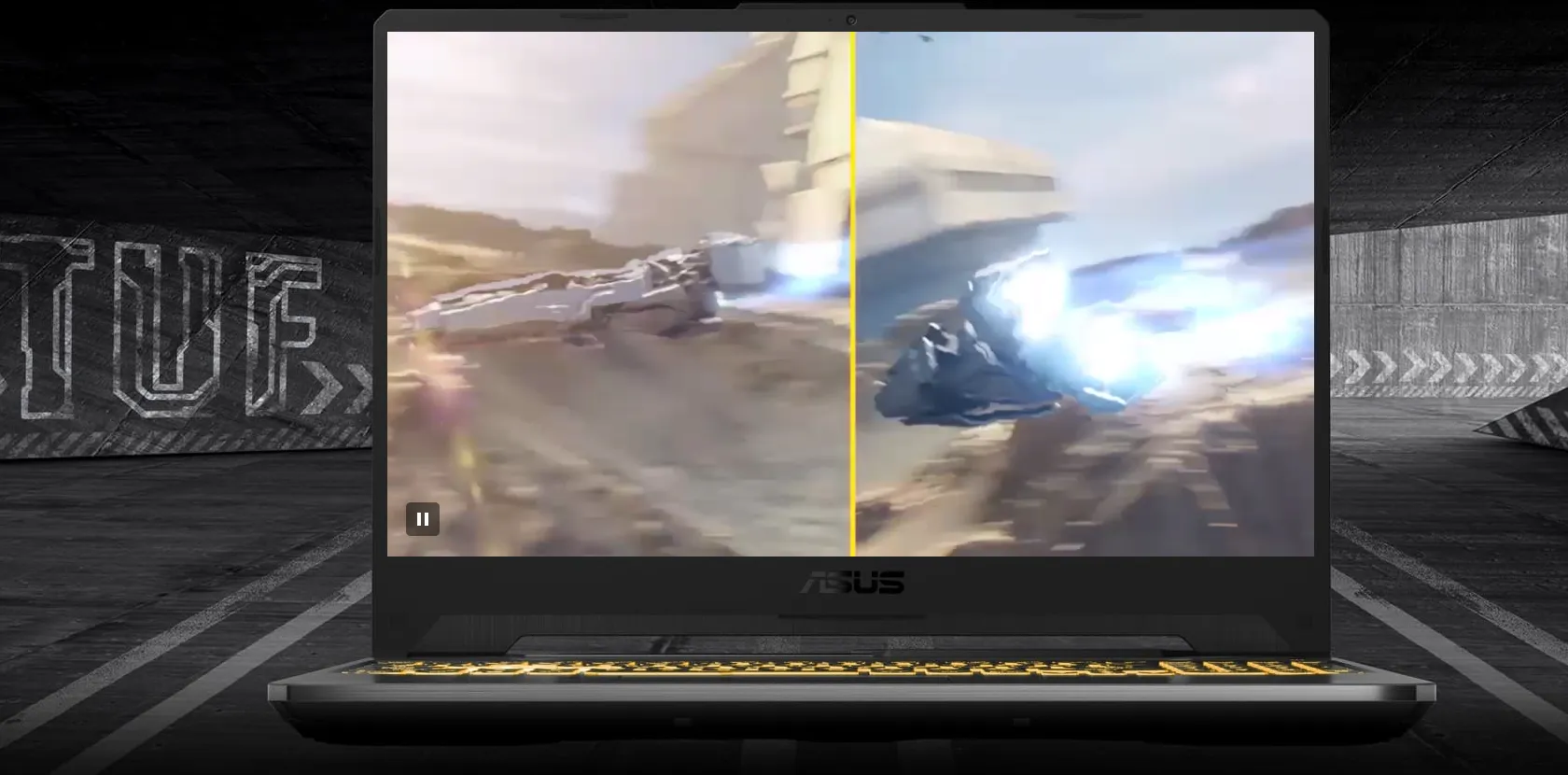 CRYSTAL CLEAR AUDIO:
Experience immersive and powerful audio with dual speakers featuring four cut-outs, providing rich and robust sound for enhanced immersion. The inclusion of DTS: X™ Ultra technology ensures high-fidelity audio, delivering clear and precise sound. With virtual 7.1-channel surround sound, your spatial awareness in-game is heightened, allowing you to gain an advantage over your enemies. Additionally, you can optimize your audio experience with up to 8 preset modes tailored for music, movies, and various gaming genres. Furthermore, the built-in equalizer grants you the flexibility to fine-tune your settings according to your preferences.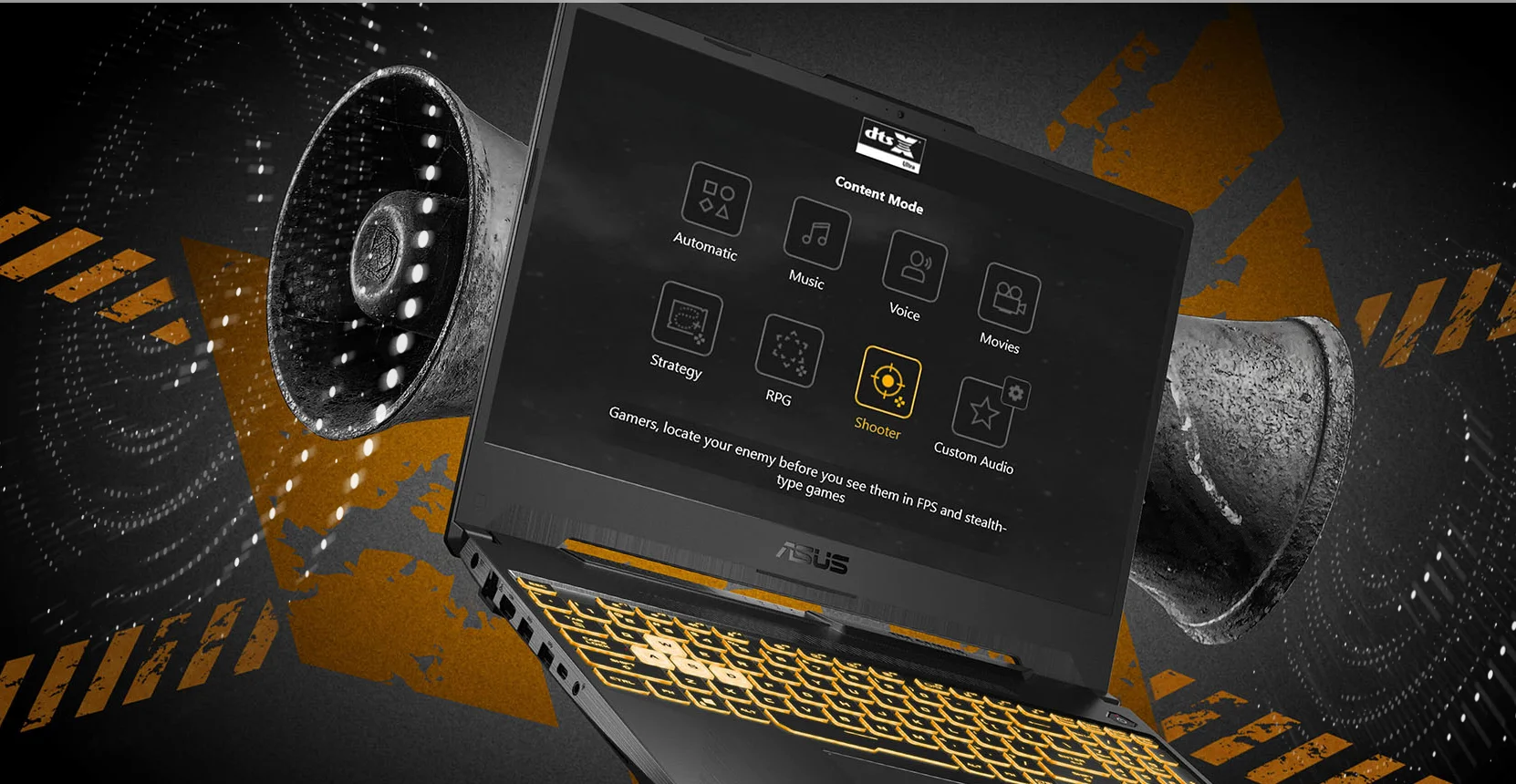 LASTING COOL:
Ensure long-term system reliability and extend the lifespan of your machine with a comprehensive cooling solution. The incorporation of four heat pipes and three heatsinks effectively pulls heat away from your hardware and swiftly dissipates it, maintaining optimal component temperatures. A self-cleaning cooling design guarantees that your cooling system remains free from debris, ensuring its full functionality over time. Tuned operating modes intelligently balance clock speeds and acoustics based on the task at hand, providing customizable performance tailored to your specific needs.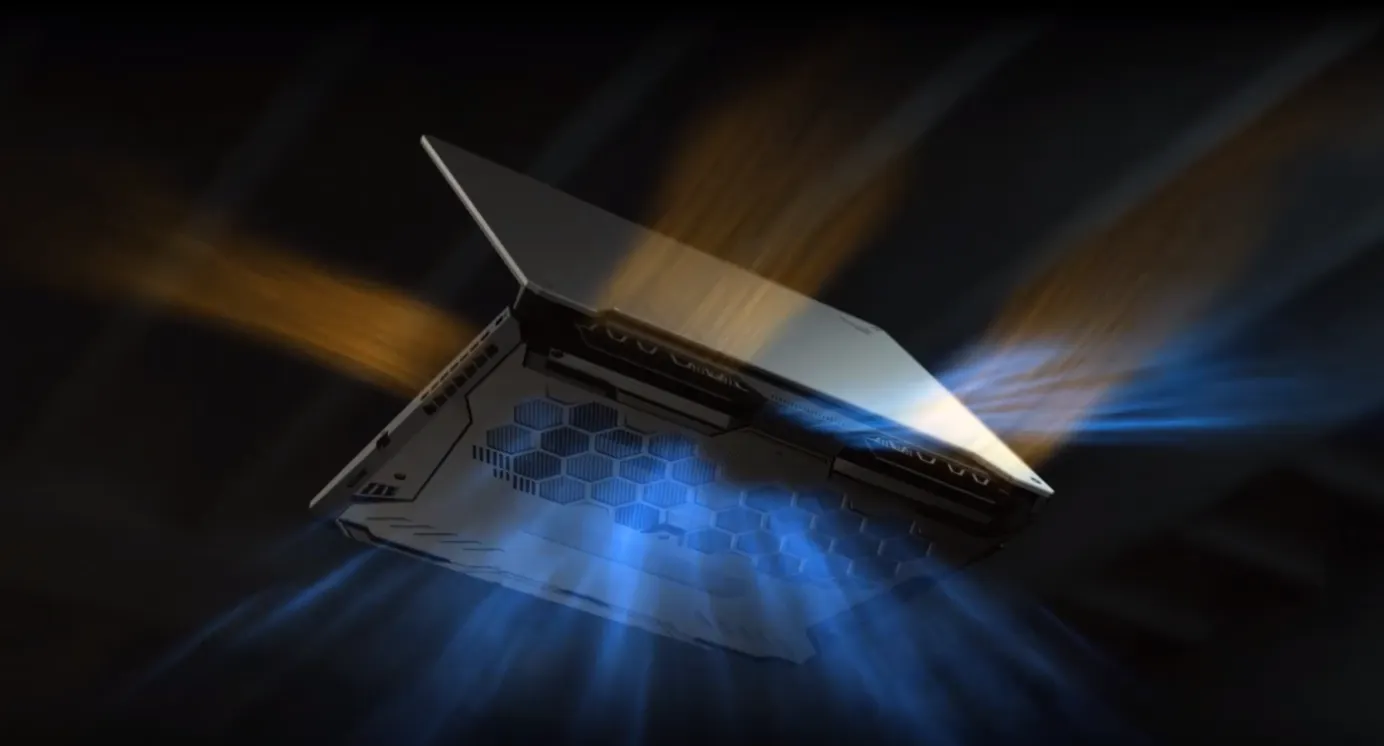 OPTIMIZED FOR GAMING:
Equip yourself with a gaming-focused keyboard that emulates the experience of a desktop-style keyboard. Enjoy the freedom to express your personal style with uniform RGB backlighting, while the highlighted WASD accents provide a visual cue for essential movement commands. The implementation of over-stroke technology ensures faster responsiveness and effortless control by triggering higher in each keystroke. Just like the rest of the TUF lineup, each key is designed to be highly durable, and capable of withstanding over 20 million presses, guaranteeing long-term reliability and precise performance.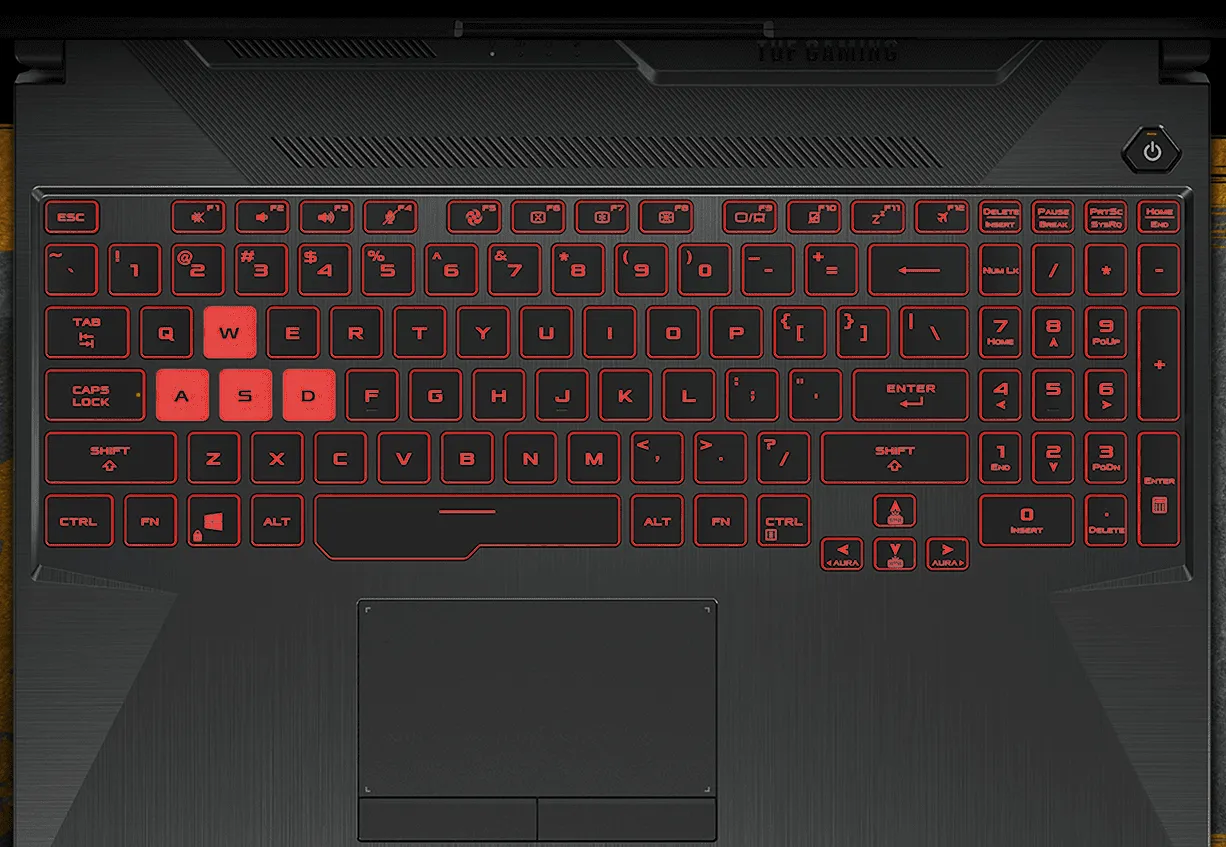 VERSATILE AND UPGRADEABLE:
Ensuring your machine stays prepared for current and upcoming games is a hassle-free process. The easy upgrade design simplifies the task of expanding your RAM and SSD, requiring only a screwdriver to access the memory slots and storage bays. Additionally, a special pop-open screw conveniently lifts one side of the panel for easy access. With the inclusion of Thunderbolt™ 4, the TUF F15 offers seamless connectivity to the latest devices. Take advantage of the high bandwidth to connect an external GPU and elevate your graphics power for gaming or 3D rendering. Alternatively, you can connect up to two 4K displays, allowing for efficient multitasking capabilities.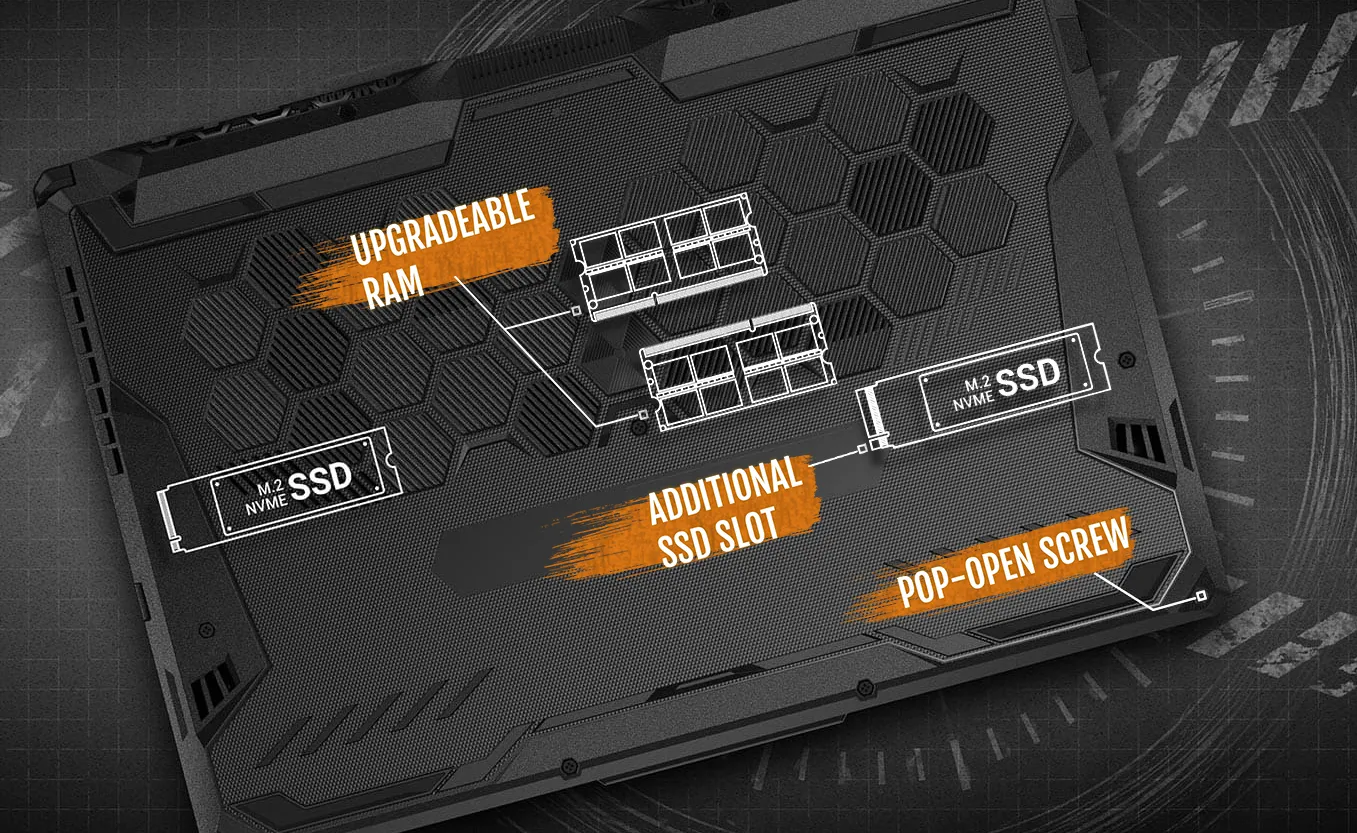 UNIFIED SYSTEM TUNING AND PERSONALIZATION:
Armoury Crate brings together system and lighting controls into a single utility, making it effortless to access crucial settings. This unified platform offers extensive customization options, allowing you to personalize aesthetic effects, fine-tune game profiles, and adjust audio settings according to your preferences. With the innovative Scenario Profiles feature, you can define and customize preferences that automatically adjust performance and other settings whenever you launch your favorite applications and games. With Armoury Crate, you have complete control over your experience, enabling you to truly make it your own.